Dilwalon ki Dilli: the most romantic places of Delhi
Places to visit in Delhi ASHOK KUMAR
Delhi or Dilli is often referred to as Dilwalon ki Dilli, which translates to 'Delhi belongs to the large-hearted'. Add to it the fact that Delhi is also called the heart of the country, partly because of its location on the map and partly because of it being India's political headquarters. But one constant is Delhi's connection with heart and matters of heart; in its element, Delhi can be impressively romantic.
Try exploring the city in the winters and you will know what we stand by. And, if you are a born romantic, and don't want to confine love to the boundaries of season and sun, places like the Ridge Road, Rose Café, the Garden Of Five Senses, Hauz Khas Village and Café Lota are there to cater to your romantic expeditions.
Rose Café, Saket
Located just a few minutes' walk away from the Saket Metro Station in South Delhi, Rose Café has made quite a mark in the 'Romantic Destinations' Club' of Delhi. The cheerful combination of chic décor with wonderful culinary options make Rose Café a much sought after hangout joint for couples looking for a cosy place to have a mushy tête-à-tête. Not to mention the lovely outdoor setting that adds the air of intimacy and affinity to your romantic rendezvous.
Café Lota, Pragati Maidan
Otherwise known for trade fairs and other huge-scale events, Pragati Maidan also has a romantic side to it and Café Lota at the National Crafts Museum stands testimony to it. This café offers you the perfect getaway from the tiring walk around Pragati Maidan and the nearby Old Fort (Purana Qila). Though not as flashy as other high-end cafes of Delhi, the tastefully designed interiors of this place will definitely add fizz to your romantic sojourn.
Garden Of Five Senses, Saket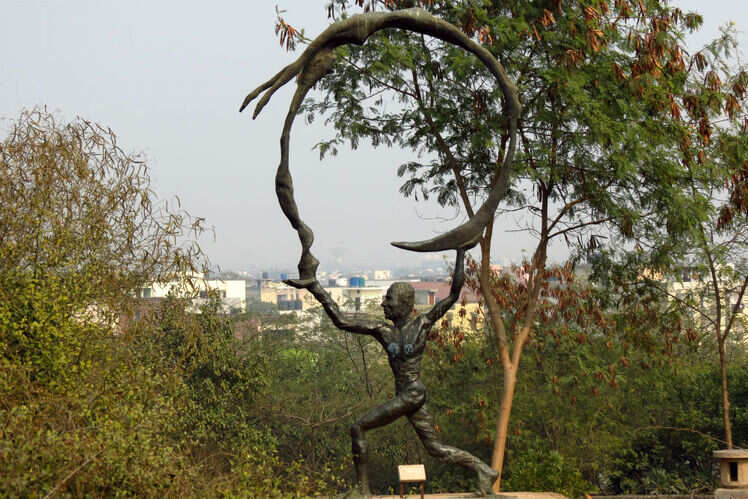 Photo by:  Siva301in, Creative Commons Attribution Licence
Opened to public in 2003, the Garden Of Five Senses is a park spread over 20 acres in Saket with the Saket Metro Station just a kilometer away. The cemented pathways of the park that meanders through beautiful man-made hedges and open spaces will offer you one of the most unforgettable romantic strolls you would've ever had! If you feel like sitting down and having a conversation over some delicious food and beverages, we recommend you to visit Fio and Magique, the two food havens of the garden.
Hauz Khas Village, Hauz Khas
An upscale locality amid the green surroundings of South Delhi, Hauz Khas Village is a perfect mix of the contemporary, the hip, a piece of history and, of course, an abundance of natural beauty. Primarily known for its food joints, Hauz Khas Village however has moved beyond its culinary identity. Explore the Hauz Khas Fort and the adjacent lake after a heartfelt meal either at Hauz Khas Social or Yeti. And while you exit the village, you might like to take a walk along the alleys of the Deer Park that will help you see sparks flying in the air, quite literally!
India Habitat Centre, Lodhi Road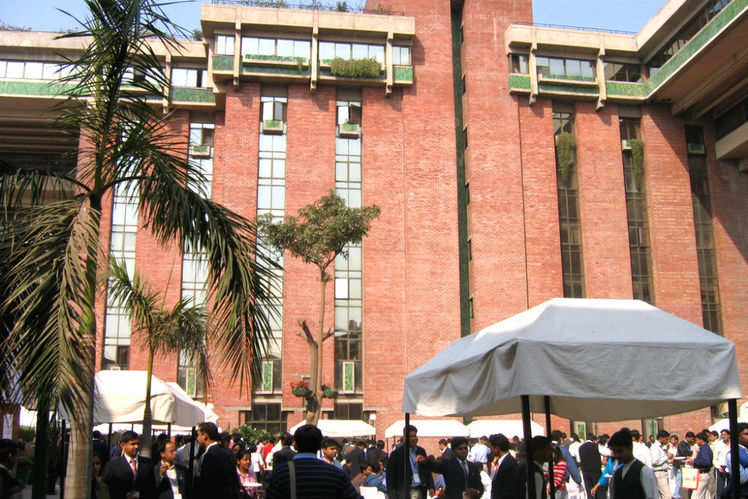 Photo by:  Sayamindu Dasgupta, Creative Commons Attribution Licence
One for the art lovers, India Habitat Centre (IHC) is a must-visit for couples, who bond over the finer things in life. Host to some of the city's most prestigious art/culture exhibits, you might discover new dimensions of your love life over a Sufi night or an Urdu poetry meet. IHC has a bevy of food joints (for both members and non-members) so that you can extend your date a little.
Ridge Road, North Campus
Right off the buzzing north campus of Delhi University, there is a scenic and quiet stretch of road that runs through a ridge, hence the name. It is very interesting that such a serene place co-exists with the otherwise bustling north campus and the adjacent Kamla Nagar Market! A walk or a drive on this road is a sure shot way to up your romantic equation with your partner. And don't write it off thinking it's just a student thing; couples of all age group can find something or the other to feed the spark! The fact that the ridge road runs through the Mutiny Memorial and the Baoli near Pir Ghaib only adds to its heritage value.
Mehrauli Archaeological Park, Mehrauli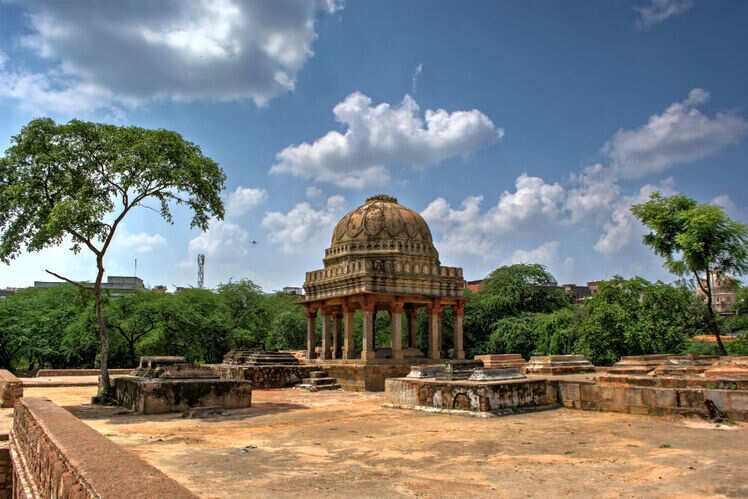 Photo by:  Ronit Bhattacharjee, Creative Commons Attribution Licence
Adjacent to Qutub Minar is this humongous archaeological wonder spread across a land area of 200 acres! It houses over 100 historically significant monuments built across 1000 years under different ruling dynasties such as the Khaljis, Tughlaqs, Lodhis, Mughals and the British. The greenery of this park joins hands with its historical value to give a whole new definition to a romantic outing. Well-marked pathways will lead you to famed monuments like the tombs of Jamali Kamali, Rajon Ki Baoli, Tomb of Balban and many more.
Lodi – The Garden Restaurant, Lodhi Road
Often touted as one of Delhi's best alfresco restaurants, Lodi – The Garden Restaurant is an ideal place to spend some quality time with your special someone. Located in the vicinity of the famed Lodhi Garden and India Habitat Centre (IHC), this place will offer you a cozy escape from the hustle-bustle of the capital city. Imagine pampering your partner with some exotic delicacies and fine beverages after a walk in the Lodhi Garden, or a cultural show at IHC. Perfect, isn't it?
Delhi Haat, INA
Delhi Haat is a culture potpourri that can easily be called a mini-India nestled in the heart of the city. Handicraft and handloom stalls from almost all states of the country showcase stunning art work and craftsmanship. Take your beloved for a shopping spree, letting them shop for specialties from all around India. This will help add more colours and flavours to your love story. A popular host venue of many events targeted to select audience, Delhi Haat is the perfect destination for people with a niche taste to meet and mingle.
Long Drive, Delhi-Agra Expressway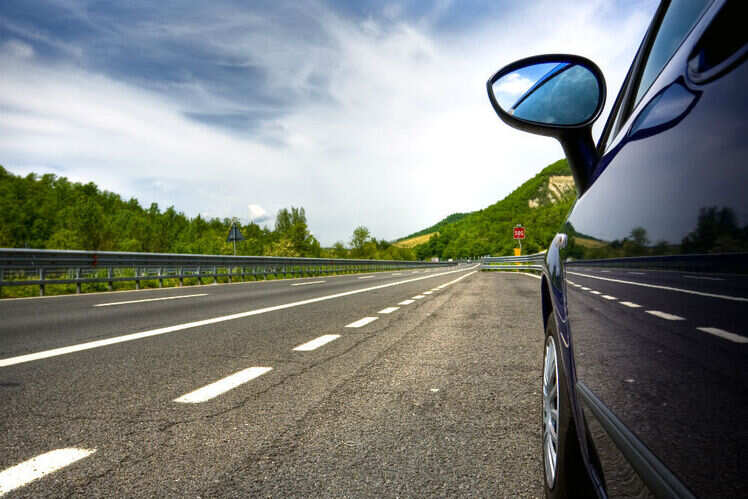 Credit: ThinkStock Photos
Like every other metro of India, driving is not a cake walk in Delhi, let alone a romantic escape. So what would you do when the weather is conducive and you don't mind getting behind the wheels? All you need to do is to head towards the Delhi-Agra Expressway and embark on a hassle-free drive with your sweetheart. Roll down the windows and play something soft and mushy in the car stereo; the change in the air will be visible within minutes!
For those in love or even those trying out their luck in love, there are myriad places to visit in Delhi that will bring on that romantic mood on!