Innovative dishes from across restaurants in Delhi NCR.
Gazpacho Italiano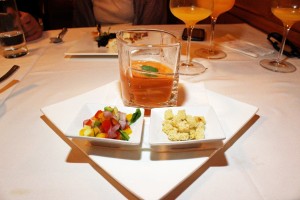 Gazpacho Italiano is a chilled soup made from tomatoes and raw vegetables finished with Italian extra virgin olive oil, balsamic vinegar and bread croutons at Artusi Ristorante e bar at their G.K II outlet. This is one of the most exotic chilled version of cold soups.
Address : M-24, M-Block Market, Greater Kailash 2, New Delhi, Delhi 110048
Price : Rs 480/- Plus taxes.
Gucci Shorba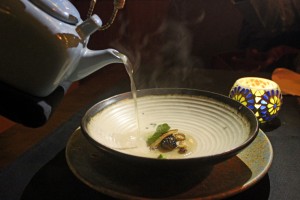 Gucci Shorba at Karma Kismet with slowly poached vegetables, white truffle oil, and Mushroom Pate is one of the most innovative experiments with Gucci used in soups. It is light and flavorsome and is served in a very artistic manner. This makes the saying "food should first be eaten with your eyes before you dig into those to satiate your hunger" realistic.
Address : M25, E Block Rd, Block M, Greater Kailash II, Greater Kailash, New Delhi, Delhi 110048
Price : Rs 525/- Plus taxes
Litchi Tikka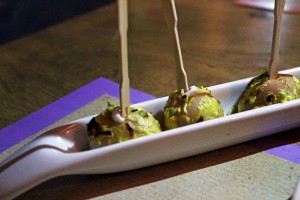 Litchi Tikka at Prankster, Gurgaon is one of the best innovations in the appetizers section. It is mouthlicious, fantabulous, and heavenly. Litchi pulp filled with mawa and tossed with dry fruits, a must for every fruity food lover.
Address : 8-9-10, Sector 29, Main Market, Gurugram, Haryana 122001
Price : Rs 310/- Plus taxes
Pomegranate Dumplings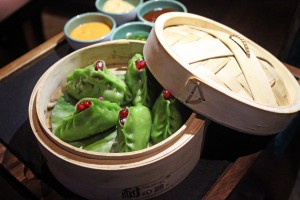 Pomegranate Dumplings, at Tama Brewery and World Kitchen, Faridabad is another great innovation in appetizer sections. This provides newer dimensions to dumplings which are with green color skin topped with Pomegranate seeds. Fillings of wild mushroom and chestnut enhance the flavors and it is a treat for taste sensations.
Address : SCF 14&15 Top Floor, HUDA Staff Colony, Sector 16, Faridabad, Haryana 121002
Price : Rs 285/- Plus taxes
Bunny Chow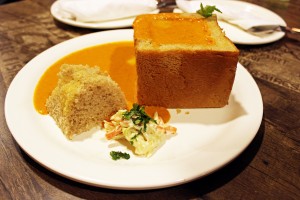 Bunny Chow at Papa Buns, GTB Nagar, is an innovative conceptualization of the food served to Indian prisoners during Apartheid in S. Africa. Food served to prisoners posed a problem, the gravy/daal used to spread out in the plates making the food messy before it reached the mouths. To overcome this they started using square shaped pieces of bread with a cavity which can hold the gravy/daal.
Address : G 24, Thekedaar Surjeet Singh Marg, Block G, Vijay Nagar, Delhi, 110009
Paneer Makhani filled Bun
Paneer Makhani filled Bun is the best out here, the gravy soaks into the walls of the bread served and give a new twist to the taste. The buns were served with a side portion of grated carrot, chili and onion salad.
Price : Rs 199/- Plus taxes