10 cycling hotspots in Delhi
Things to do in Delhi IRSHAD ALI
The cycling ecosystem in Delhi is pretty good and the number of people who have taken to recreational and professional cycling in the city has increased exponentially over the last few years. Step out early in the morning, towards India Gate, Rashtrapati Bhawan and Rajpath, and you will see cyclists in their colorful attire, riding their high-end machines. As with most other cities around the world, the cycling community in Delhi is close knit and welcoming to new cyclists. If you are new to the riding, you will soon find a great group of people to cycle with. What I personally like about Delhi's cycling culture is the easy-going camaraderie that we share. The smiles and waves I get on my morning rides from fellow cyclists make my day.
Dhaula Kuan to 11 Murti on Sardar Patel Marg
While riding from Dhaula Kuan to Gyarah (11) Murti, you will encounter a mild downhill that makes pedalling easy. You will love the speed you gain on this stretch. Add to this the cool air from ridge forests and you have a fast and breezy cycling section early in the morning. Ideal to create the right rush you need to jump start your day.
Rashtrapati Bhawan to India Gate
This is a majestic stretch. Stand on Raisina Hill and you will know what I am talking about! With Rashtrapati Bhawan on one side, India Gate on the other side, and Rajpath running all the way―this is a sight that fills you with pride. Mornings at Rajpath are full of cyclists, runners, children skating and people playing sports. What do you get? A lot of happy smiling faces and a lot of positive energy early in the morning.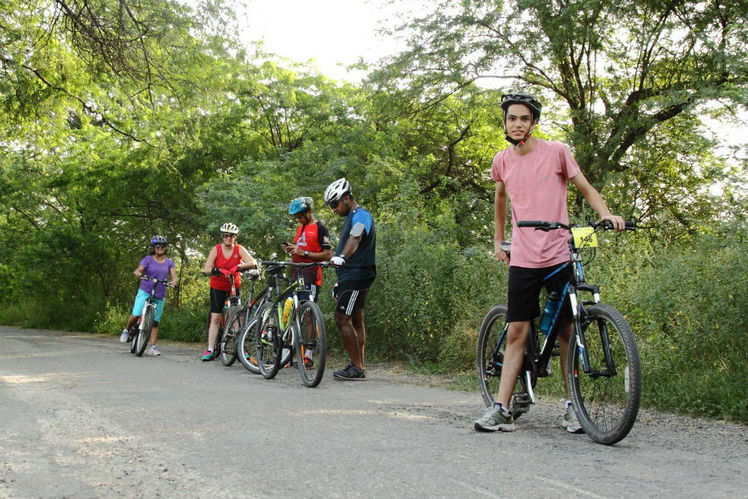 Photo courtesy: Saurabh Kapur
Najafgarh Wetlands
This road is on the outskirts of Delhi and connects Dwarka to Haryana. The trail runs along the Najafgarh drain. Thanks to its location, traffic is sparse on this stretch and the area is lush green. Beautiful sunrise, greenery, and thousands of birds make it one of my favorite cycling hotspots in the city. Winters bring thousands of migratory birds from Siberia and you can spot Northern Pintails, Bar headed geese, among others, here.
Gurgaon-Faridabad Road
This is arguably the best road for training on your cycle in Delhi- NCR. The road consists of a number of uphill and downhill sections on which you can challenge yourself and also have a great time. Almost the entire road has forest areas alongside, so cycling here is quite invigorating. You will meet a large number of cyclists and runners on this popular hotspot.
Sanjay Van in Qutub Institutional Area
This forest area in the heart of Delhi is a dream come true for any fitness enthusiast. There is a gravel track running inside the forest which is great for cycling. The forest has a few Machans (watch towers) that give you an excellent view of the surrounding area. Visit this place and you will be surprised at its beauty.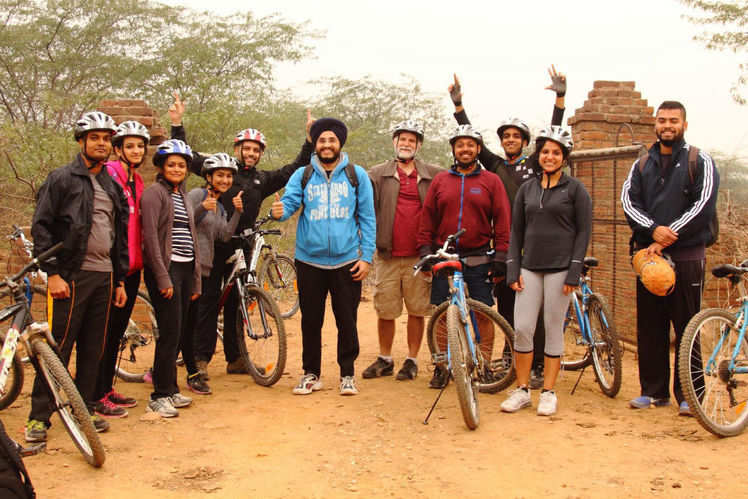 Photo courtesy: Saurabh Kapur
Asola Bhardwaj Lake
This is my personal favorite.. There are around seven lakes in the vicinity and, trust me―each one is better than the other! The rocky off-road gravel track is perfect for cyclists who enjoy off-road or single track cycling. The uphill and downhill sections combined with rocky areas are just perfect for mountain bike riders. Beginners may find this track challenging and will need to walk across several sections. The area is teeming with bird and animal life and if you are lucky, you may spot a Nilgai or Asian antelope, porcupines, rabbits and even jackals. Since the forest has no vehicular traffic, there is zero pollution on this stretch.
Aravali Trails
These are off-road trails with plenty of uphill, downhill and rocky winding sections. The area is perfect for intermediate mountain bike riders. Beginners will find several sections to be quite tough. But that said, it is a beautiful forest area for cycling. This forest, like the Asola forest, is also full of birds and small animals.
NH 8–from domestic terminal turn off to Manesar
This road is for the road bike enthusiast who enjoys speedy rides. The road is one long straight stretch with negligible distractions and diversions. You can really speed on this road in the morning and enjoy a fast paced ride.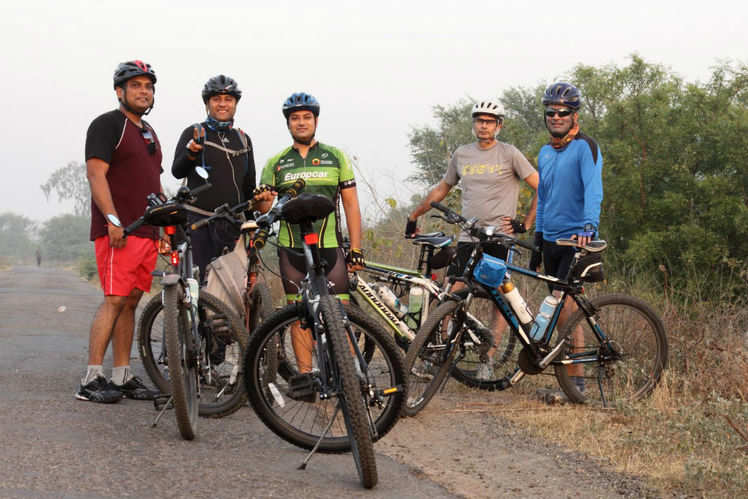 Photo courtesy: Saurabh Kapur
Dwarka to Sultanpur ride
This is a 65 km loop that I do often. The route crosses Najafgarh wetlands, small villages and farmlands. It is a pleasure riding these roads as traffic is sparse and pollution negligible. The cool morning breeze makes my rides a happy affair.
Aravali Bio-Diversity Park, Gurgaon
This is a wonderful green haven in an otherwise concrete jungle. The downhill sections inside the park can be quite intimidating for a beginner, but once you get the hang of it, you will thoroughly enjoy the undulating path inside the Aravali Bio-diversity Park. I am sure cyclists in Delhi and NCR have been on a number of these roads. If you are a cyclist reading this, why don't you share your experiences in the comment section below. If you are a budding cyclist, join Delhi's cycling community and enjoy these cycling hotspots across the city.
With so many interesting things to do in Delhi, you won't get much time to rest!